The Velo Labs team is incredibly proud to reveal that two of Velo Labs' partners successfully completed the 1st-ever live transaction using Velo Labs' Federated Credit Exchange Network (FCX)! This historic transaction took place between two pioneers of the modern fintech landscape: Lightnet Group and SEBA Bank.
On this seminal transaction, Tridbodi Arunanondchai, Vice Chairman of Velo Labs states: "Velo Labs provides fast, secure, flexible and low-cost remittance services to its partners through its Federated Credit Exchange Network. The successful completion of this live transaction between Lightnet Group and SEBA Bank is a major milestone on our journey to make these kinds of services available to the masses."
The FCX is a unique distributed network with regulated entry points that connects an array of traditional, centralized and decentralized finance partners. Standing firmly in the Federated Finance category, the FCX combines the efficiencies and freedom of DeFi with the well-worn, mature practices and standards of CeFi and legacy systems. It is this approach that makes it possible for the FCX to enable the liquid exchange of digital credits pegged to any fiat currency while guaranteeing last mile settlement using the VELO token.
To participate in Velo Labs' Federated Credit Exchange Network, there are several stipulations to which all network participants must abide. These include:
VELO tokens serve as the FCX's universal collateral;
VELO token transactions are confirmed using a Federated Byzantine Agreement - the Stellar Consensus Protocol;
The FCX's core function – issuing and transacting with digital credits pegged to any fiat currency – is built on the Velo Protocol.
One major advantage of Velo Labs' FCX is that it allows network participants to transact using digital credits pegged to the fiat currency of their choice. SEBA Bank, headquartered in Switzerland, decided to transact using Swiss Franc-pegged digital credits (vCHF). Lightnet Group, for their part, chose digital credits pegged to the United States Dollar (vUSD). In other words, the first ever transaction executed on Velo Labs' FCX used a vUSD/vCHF trading pair!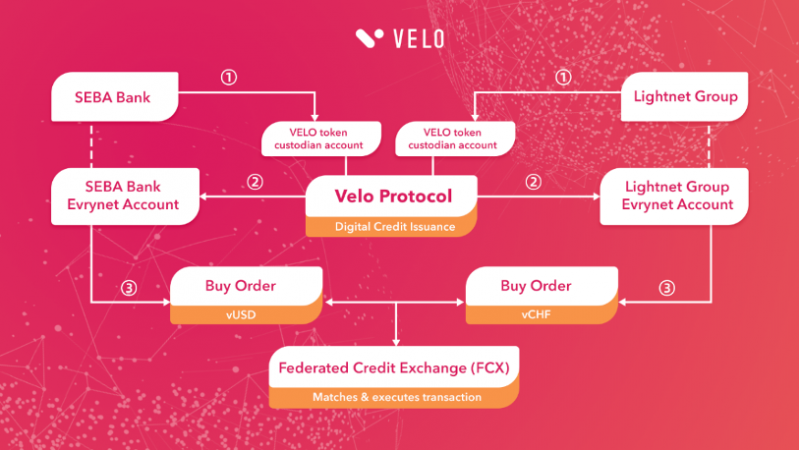 The 1st transaction flow worked as follows:
To completely settle the transaction, SEBA Bank and Lightnet Group can, at any time, each revert their vUSD and vCHF to VELO tokens -- the same asset that they used to initiate the transaction. It is in this way that VELO tokens act as both a bridge asset and as the FCX's universal collateral.
With this first transaction out the way, the Velo Labs team is turning their attention to onboarding more partners from the legacy finance, CeFi and DeFi worlds. The ability to aggregate liquidity from these different worlds, while simultaneously providing off-chain order matching and on-chain trade settlement and clearance, positions Velo Labs' Federated Credit Exchange Network as one of few blockchain projects with a clear path towards mass adoption.
The Federated Finance era has arrived. Even sooner than expected.
© 2023 The Block. All Rights Reserved. This article is provided for informational purposes only. It is not offered or intended to be used as legal, tax, investment, financial, or other advice.