UPDATE 15:00 UTC: Binance has officially announced the Binance Card, stating that "The Binance Card is issued by Visa and accepted by more than 46 million merchants in 200 regions and territories, which makes shopping with crypto easier than ever before."
"The Binance Card does everything a regular payment card does, plus much more. It works like a regular debit card issued by your bank – which, in this case, is your Binance.com account. You simply top-up your card with funds through the Binance Card App in the form of Bitcoin or BNB, and you're ready to go. It's as simple as transferring BNB from one wallet to another," the blog post explained.
"The Binance Card is currently available as a virtual card in a Beta version, with a physical card coming shortly," the post further explained.
---
Binance is working toward the launch of a crypto debit card, The Block has learned.
A source close to Binance provided The Block with a link to the crypto debit card's website. The site offers "A Crypto Debit Card for The World." 
The website, GetBinanceCard.com, is advertising the Binance Card, which it says will let users "load your favourite cryptocurrencies into your Binance card wallet and spend at any VISA merchants worldwide." The website was registered by Moon Tech Pty Ltd, which is registered in Queensland, Australia and was active as of February 22 of this year. WHOIS data indicates that the website was registered on January 22.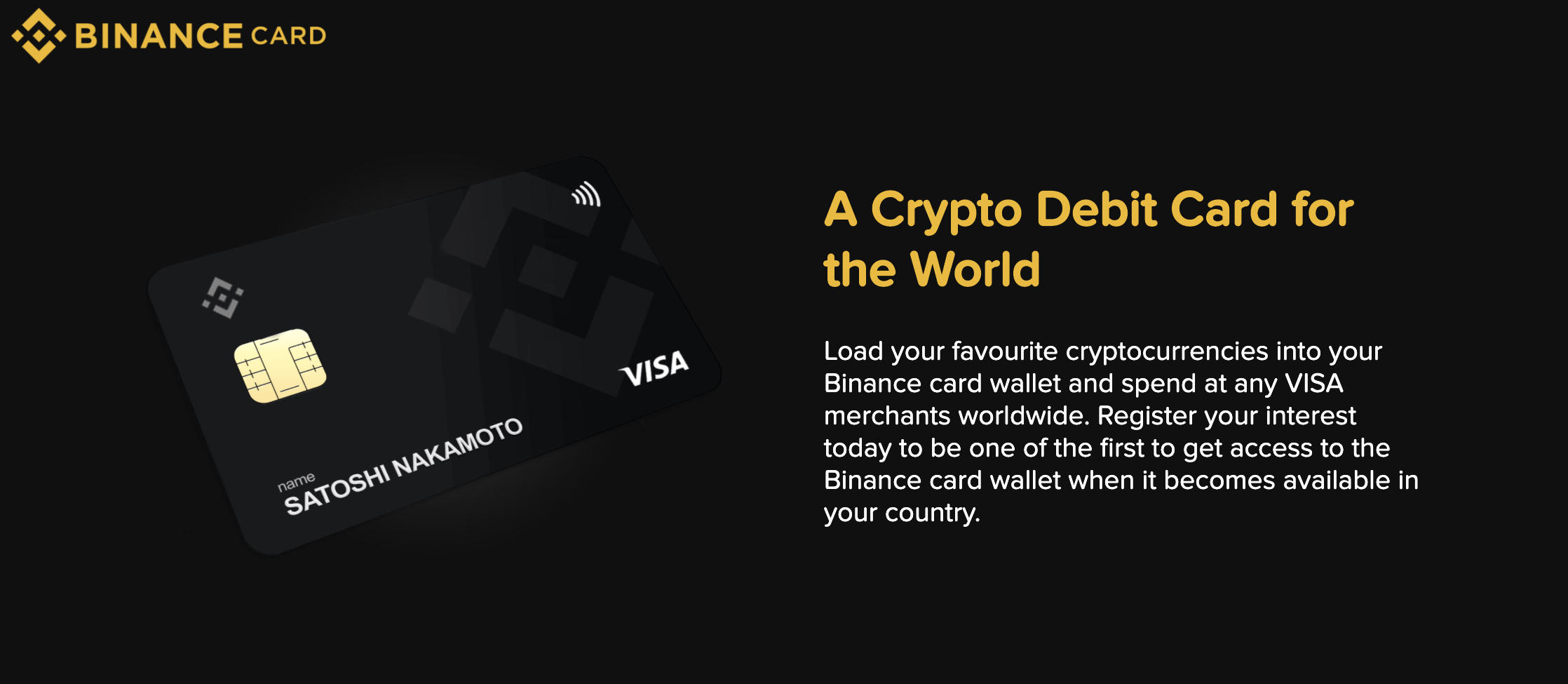 The site's privacy policy page details a list of types of personal information that may be collected during sign-up, notably mentioning that "[y]ou may provide this information to us directly, or by signing in using a third party, including (but not limited to) your Binance account."
It's unclear at this time which cryptocurrencies will be supported by the offered debit card, or in which countries it might be available for use. While the website includes a call-to-action to register interest, it currently provides no means for doing so. There is no known launch date.
A second website for the debit card service makes mention of the Australia-based company, but unlike the other website, it allows users to register interest. A privacy policy link reverts back to the GetBinanceCard.com site.
The card effort appears to be connected to a previously announced effort between Binance and TravelByBit, which received $2.5 million in funding from Binance in 2018, to create a crypto-backed travel rewards card. On March 12, TravelByBit said in a blog post that it was delaying some of the features of that card in order to move the product to market more quickly.
"With the hope of the card being widely adopted, the debit card will now be launched as the Binance Card and the best part is, you won't need to wait much longer. From March 20th 2020 you can start the process simply by downloading the card app from the play store," the post said. "Binancians will be able to use BNB to make purchases within their daily lives."
In early 2016, Binance CEO Changpeng Zhao took part in an Ask-Me-Anything session, during which was asked about a Binance-specific debit card. According to a published transcript, he said of the topic: "We're not in a plan to offer a Binance credit or debit card just yet. We're working with other third-party partners to enable those. So yeah, we're looking for partners too, in those areas."
Coinbase launched a similar initiative in April 2019 in the U.K. The debit card allows users to spend cryptocurrencies directly from their Coinbase accounts. The debit card is currently not available in the U.S., but accessible in 29 European countries. Coinbase's debit card supports ten coins, including bitcoin (BTC), ether (ETH), XRP and DAI. 
Earlier this month, Crypto.com announced that its MCO Visa Card had begun shipping to customers based in the United Kingdom. 
This story is developing and is being updated with additional information.