Investors are increasingly looking to snap up safeguards for their portfolios to hedge against rising inflation — a trend that could benefit assets spanning gold to bitcoin. 
Indeed, reporting from the Financial Times last week noted that money has been pouring into funds that invest in TIPS (Treasury inflation-protected securities). According to the publication, more than $5 billion has moved into funds invested in the bonds, which aim to protect investors from spikes in consumer prices. Gold is also enjoying a moment, trading up more than 19% since the beginning of the year and recently crossing $1,800 for the first time since 2011. 
The thinking among investors is that inflation could pick up as a result of recent monetary policy actions from various central banks. Other factors include a further decline in the price of the U.S. dollar, as noted by the FT's Michael Mackenzie. U.S. consumer prices rebounded in June after three months of declines, the highest increase in more than eight years.
Still, the Federal Reserves' flagship inflation gauge declined to 1.7%, below the Fed's 2% target. 
The average expected inflation over the next five years stands at 1.57%, far below the 2.2% post-financial crisis average. The expected breakeven inflation, meanwhile, stands at 1.35%, below the post-recession average of 1.7%. Typically, a rising breakeven inflation rate is associated with a rosier economic outlook among investors. It also can be "interpreted as the inflation rate that market participants anticipate to hold in the future," specifically over five years.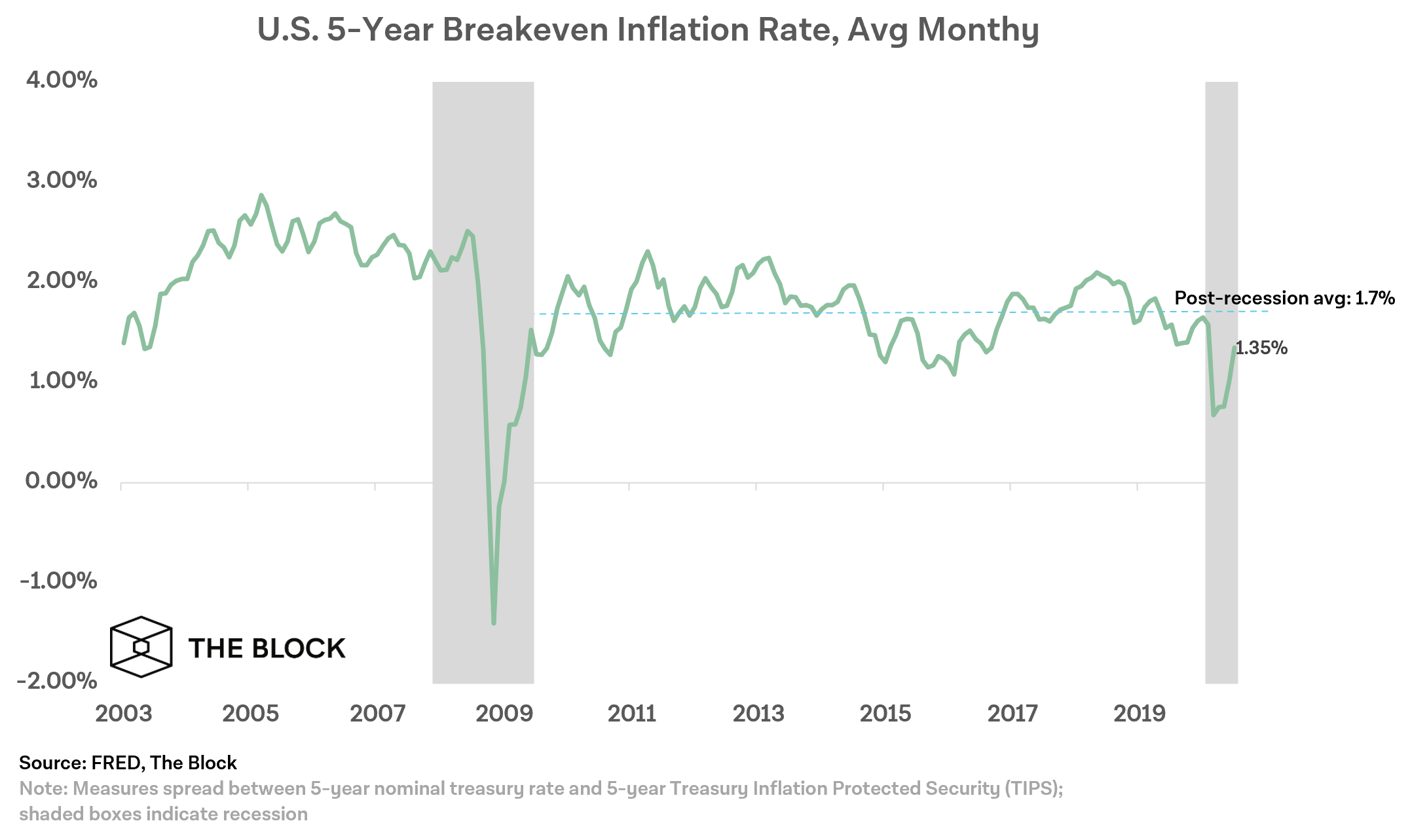 In any case, bitcoin appears stuck in an extended period of doldrums — the digital asset has traded within a tight range between $9,000 and $9,300 since the end of June.