Social media giant Reddit is auctioning off a very limited number of non-fungible tokens (NFTs) built on the Ethereum blockchain.
Named "CryptoSnoos," the NFTs are a collection from Reddit that features its alien mascot Snoo. Snoo was originally created as a doodle, but after a few revisions became Reddit's alien mascot. Reddit is currently auctioning off three CryptoSnoos, which have the "Legendary" tag, meaning one of a kind.
The three CryptoSnoos NFTs are dubbed Original Block, Helium, and Snooprematic. NFTs are unique tokens on a blockchain that certify the uniqueness of digital goods. The three NFTs are currently on sale on the NFT platform OpenSea, and their auction ends on July 1.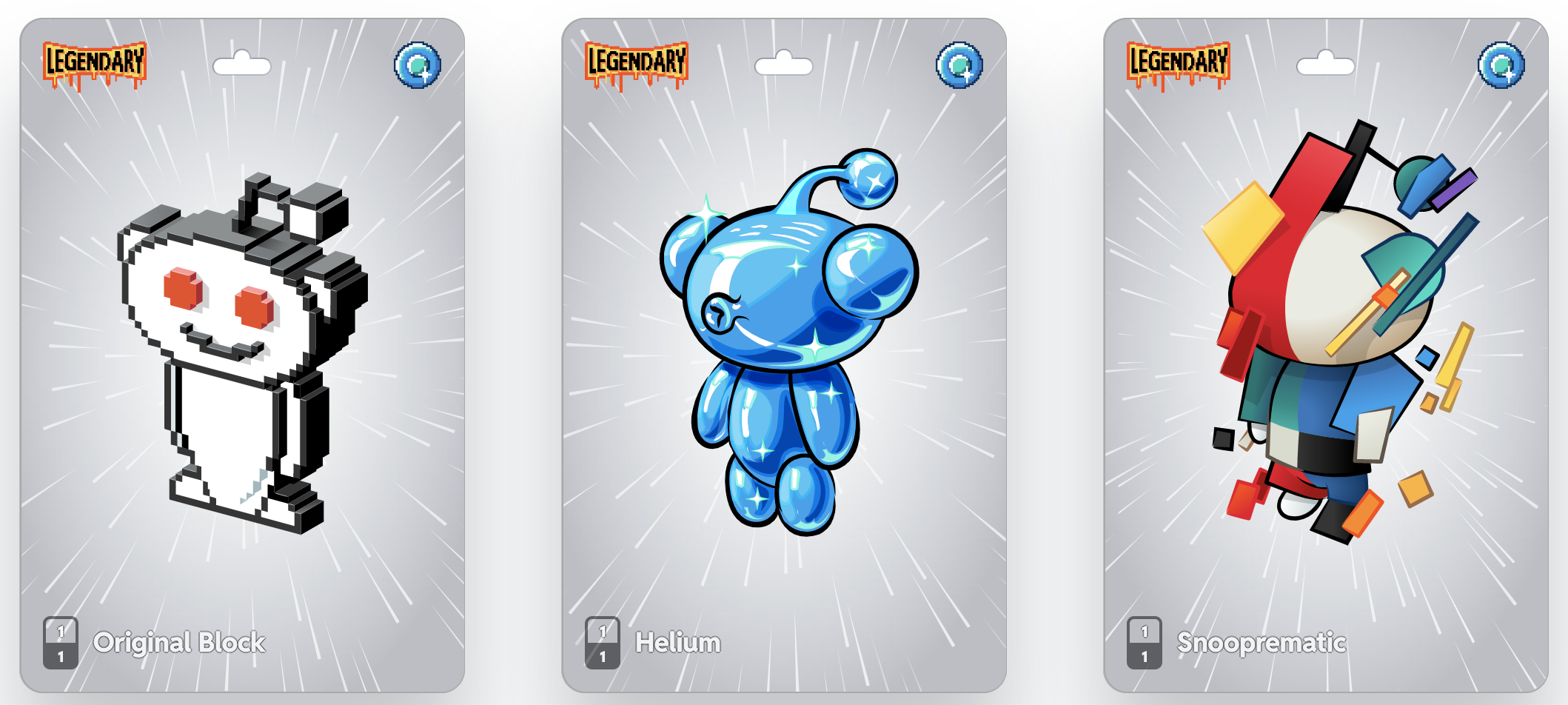 The Original Block NFT is created with Reddit's characteristic Snoo caricature. It is associated with the early days of Reddit and Reddit culture because of its resemblance to the original version of Snoo, said Reddit. The Helium NFT is associated with the contemporary art movement because of its reference to popular culture and everyday objects that are blue and sparkle, according to Reddit. The Snooprematic NFT, on the other hand, is made up of geometric forms such as squares, circles, and rectangles presented in an array of colors.
Reddit says when someone purchases a CryptoSnoo NFT and links it to their Reddit account, the CryptoSnoo image will become their Reddit avatar, and a collectible NFT card will go on their profile. In addition, they will also get an animated glow on their comments, so everyone knows they are a CryptoSnoo NFT owner. Owners would also be able to sell their NFTs to someone else if they wish to.
The current highest bid for the Original Block NFT is one wrapped ether (wETH), worth about $1,900; for Helium, it is 0.52 wETH ($1,000); and for Snooprematic, the current highest bid is 0.58 wETH ($1,100).
Looking ahead, Reddit is planning to sell more NFTs that would carry "Epic" and "Rare" tags. NFTs with the Epic tag would be "extremely limited edition," said Reddit, while the Rare tag NFTs would be of "limited edition," as opposed to the three Legendary CryptoSnoos NFTs that are one of a kind.
This is one of the first times that NFTs will be sold that bring with them some kind of use case (the avatar along with the comment glows) within a major technology platform that has 52 million daily users. While NBA Top Shot saw huge success earlier this year with its range of basketball-themed collectibles, sales have since fallen to a tenth of their weekly peak. The test will be whether Reddit can succeed in countering the short-lived hype that most NFTs get and use its platform to provide long-lasting momentum instead.
Reddit's other crypto experiments
This is not Reddit's first initiative with crypto or blockchain. Last year, the platform experimented with Ethereum-based tokens for two of its subreddits, r/Cryptocurrency and r/FortNiteBR. A few months later, Reddit then invited developer pitches on the best means to distribute the so-called Community Points to its user ecosystems.
Ultimately, 22 different blockchain projects submitted proposals. Then earlier this year, Reddit partnered with the Ethereum Foundation to help accelerate the progress on scaling and developing the technology needed to launch large-scale applications like Community Points on Ethereum.
© 2023 The Block. All Rights Reserved. This article is provided for informational purposes only. It is not offered or intended to be used as legal, tax, investment, financial, or other advice.