As Bitcoin continues exponentially growing, it is difficult to find investment strategies that can outperform Bitcoin itself.
In this example historical case study, Bitcoin mining with Blockware Solutions was a potential way to accelerate the returns of investing in Bitcoin in 2021. All data in this case study was sourced publicly from The Hash Rate Index (historical rig prices) and Glassnode (Bitcoin price and network difficulty).
Results of Mining Bitcoin in 2021
On December 31st, 2020, you could have purchased an S19 for $7,296.63. Plugging in your miner, the S19 was able to produce mining rewards of $12,402 by November 30th, 2021.
At an electricity cost of $0.07 per kWh, your operating expenses were $1,829. Assuming you used the mining rewards to pay your electricity expenses, but held the remaining coins, you ended 2021 with a 197% return in just under a year.
Scaling this up by purchasing 100 S19s, you can see the net results below.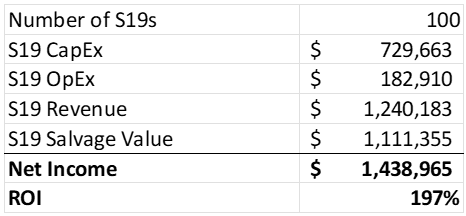 Not only was this a phenomenal USD-denominated return, but this same mining strategy outperformed Bitcoin itself.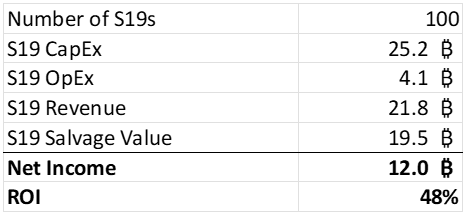 Bitcoin Mining in Practice
However, it is difficult to procure ASICs, build large mining facilities, and source cheap scalable electricity all on your own. As an institution, hedge fund, or high net worth individual, it makes sense to purchase and host ASICs with a trusted partner like Blockware Solutions.
With Bitcoin mining experience dating back to 2013, Blockware Solutions has sold over 250,000 ASICs, hosted 200+ MW of clients, and mined over 1,500 BTC from the Blockware Mining Pool.
If you are looking for a trusted partner to assist you in deploying capital to the Bitcoin mining space, Request a Quote from Blockware Solutions.
Website: https://www.blockwaresolutions.com/ 
Twitter: https://twitter.com/BlockwareTeam 
Blockware Intelligence: https://www.blockwareintelligence.com/ 
* Past performance is not indicative of future results.
© 2023 The Block. All Rights Reserved. This article is provided for informational purposes only. It is not offered or intended to be used as legal, tax, investment, financial, or other advice.