Ether, and other tokens related to the Ethereum ecosystem, have failed to hold on to the heady price gains made following the successful completion of The Merge. 
The Merge was completed at 06:44 UTC on Thursday, pushing ether up and over the $1,600 mark it has flirted with since Tuesday's CPI data release, while also spurring growth in Ethereum Classic, Lido DAO's token. 
The native token of the Ethereum blockchain had traded at around $1,583 directly before The Merge, jumping to around $1,640 in the immediate aftermath before surrendering much of those gains. It was trading at $1,604 on Coinbase at the time of writing, up 0.34% over the past 24 hours. 
The token associated with Ethereum Classic, the blockchain that Ethereum forked away from in 2016, jumped from around $35.82 prior to The Merge to just under $40, before falling to $37.20 as of the time of writing. 
This leaves the token up about 1.9% in the past day. With Ethereum now migrated to a proof of stake blockchain there is potential for Ethereum Classic to receive an influx of miners. Its hash rate soared in the thirty days leading up to the upgrade, spiking again following The Merge.
The biggest gainer following The Merge has been Lido DAO's token, up 7.8% to trade at $1.90 at the time of writing, per CoinGecko data. In keeping with the other tokens that gained following the upgrade, Lido DAO went as high as $2.15 before shedding some of those gains.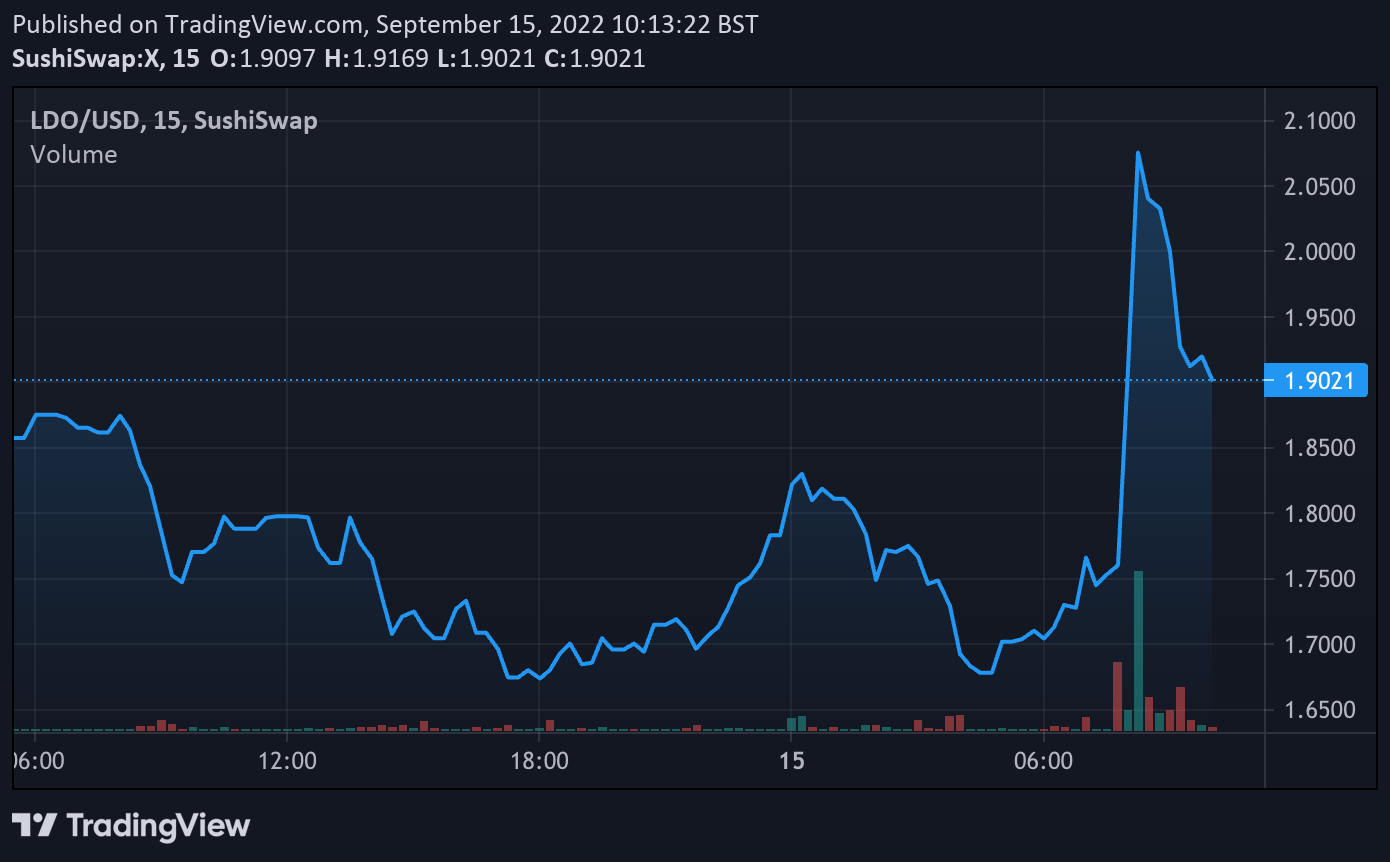 © 2023 The Block. All Rights Reserved. This article is provided for informational purposes only. It is not offered or intended to be used as legal, tax, investment, financial, or other advice.