After a rally above $23,800, bitcoin bounced back from a temporary drop below $22,600 earlier in the week, to level out just over $23,000 today for a small 1.6% weekly gain. Ethereum dropped nearly 5.2% over the week, trading at $1,576.
Cryptocurrencies Floki Inu (FLOKI) and Aptos (APT) were in the green in recent days. APT surged with a 65.5% weekly gain. Meanwhile, the Floki Inu community approved a proposal to burn $55 million in FLOKI tokens resulting in a 67.36% weekly gain.
BNB and Polygon's Matic, saw weekly gains of 0.5% and 11.23% respectively, while XRP fell by 1%.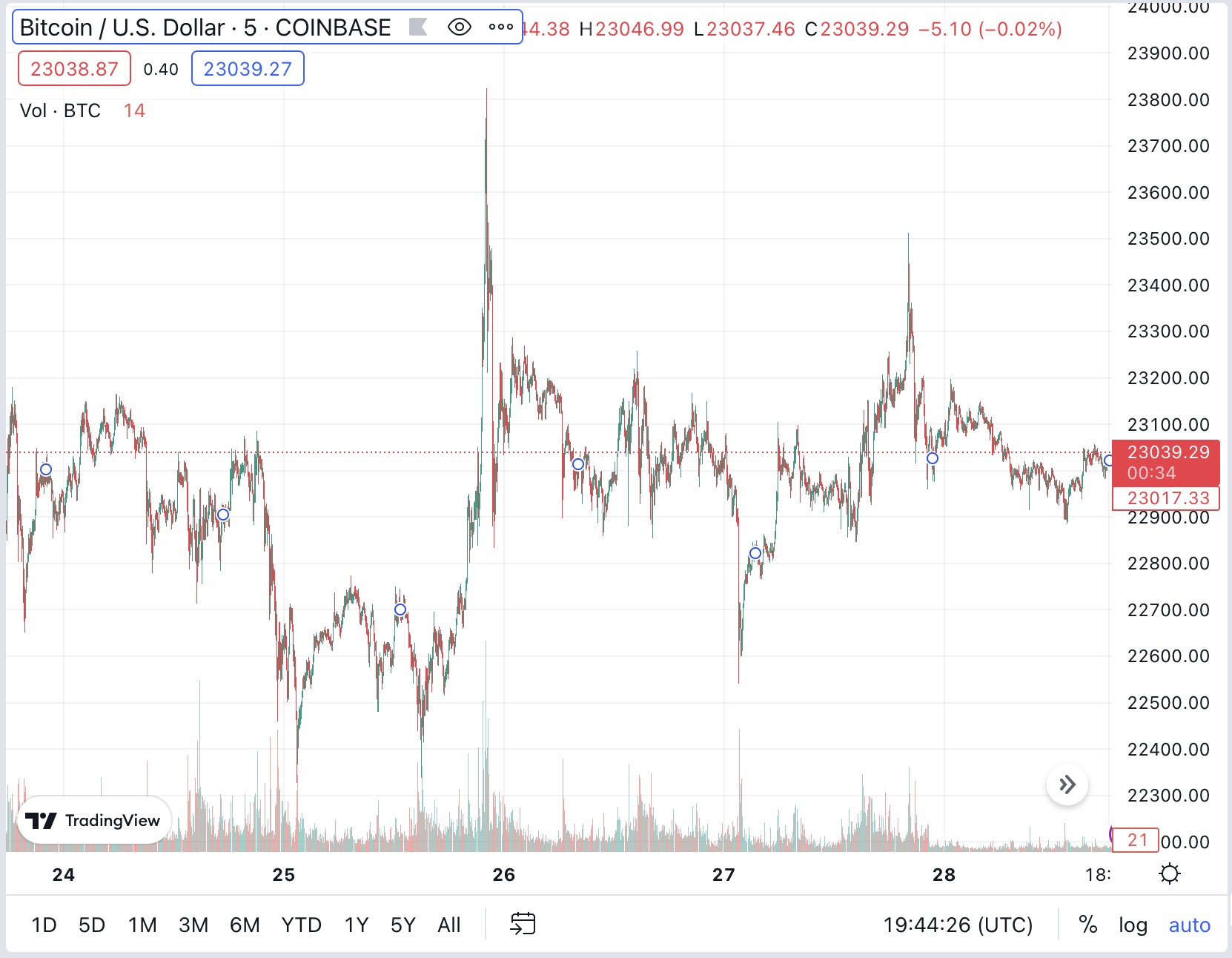 Chart from TradingView.
Crypto stocks and structured products
Silvergate shares slid from a momentary spike last Tuesday to $13.57 after the company shared Friday it had suspended a preferred stock dividend. Despite that drop, Silvergate shares still closed the week with a 10% gain.
Coinbase shares were up nearly 22%, while MicroStrategy rose just over 15% and Jack Dorsey's Block gained 17%.
In structured products, GTBC gained 7.5%, while ETHE fell 0.67% over the week.
Chart from TradingView.
Macro matters
The Federal Reserve is on deck this week, with an anticipated quarter-point interest rate hike coming on Wednesday. Officials in November increased the federal funds rate by 75 basis points to 3.75-4%, a 15-year high.
For the U.S. economy, growth narrowly surpassed a fourth-quarter estimate of 2.8%, with a 2.9% expansion in the final months of 2022, driven by consumer and federal spending.
© 2023 The Block. All Rights Reserved. This article is provided for informational purposes only. It is not offered or intended to be used as legal, tax, investment, financial, or other advice.