Binance US announced in a blog post on Friday that its efforts to launch a cryptocurrency exchange in the country are proceeding rapidly.
Striving to meet the U.S. regulatory requirements, the exchange is currently evaluating 30 coins to be listed on its U.S.-based platform, including bitcoin (BTC), ether (ETH), stablecoins including USDC and PAX, as well as Binance's own token BNB, per the blog post. 

Binance announced its plans to launch a fiat-to-crypto exchange in the U.S. last month, before breaking the news that its main platform, Binance.com, would stop being available in the country in September. The exchange's US unit also recently hired Catherine Coley, former head of XRP institutional liquidity at Ripple, as CEO.

The official public launch date for the U.S. platform is yet to be decided by the exchange.
All the 30 tokens under consideration by Binance US are: ADA, ATOM, BAT, BCHABC, BNB, BTC, DASH, EOS, ETC, ETH, HOT, IOTA, LINK, LOOM, LTC, MANA, NANO, NEO, PAX, REP, RVN, TUSD, USDC, USDT, VET, WAVES, XLM, XRP, ZIL and ZRX.
Market observers have noted that Binance's entrance into the U.S. could challenge the dominance of existing market participants, such as Coinbase. In the below chart, The Block circles out all 13 tokens that Coinbase supports for its U.S. customers. Notably, Coinbase does not support BNB as its categorization as a security has been subject to debate.

   Binance vs. Coinbase; the latter supports 13 tokens for U.S. customers (circled in green)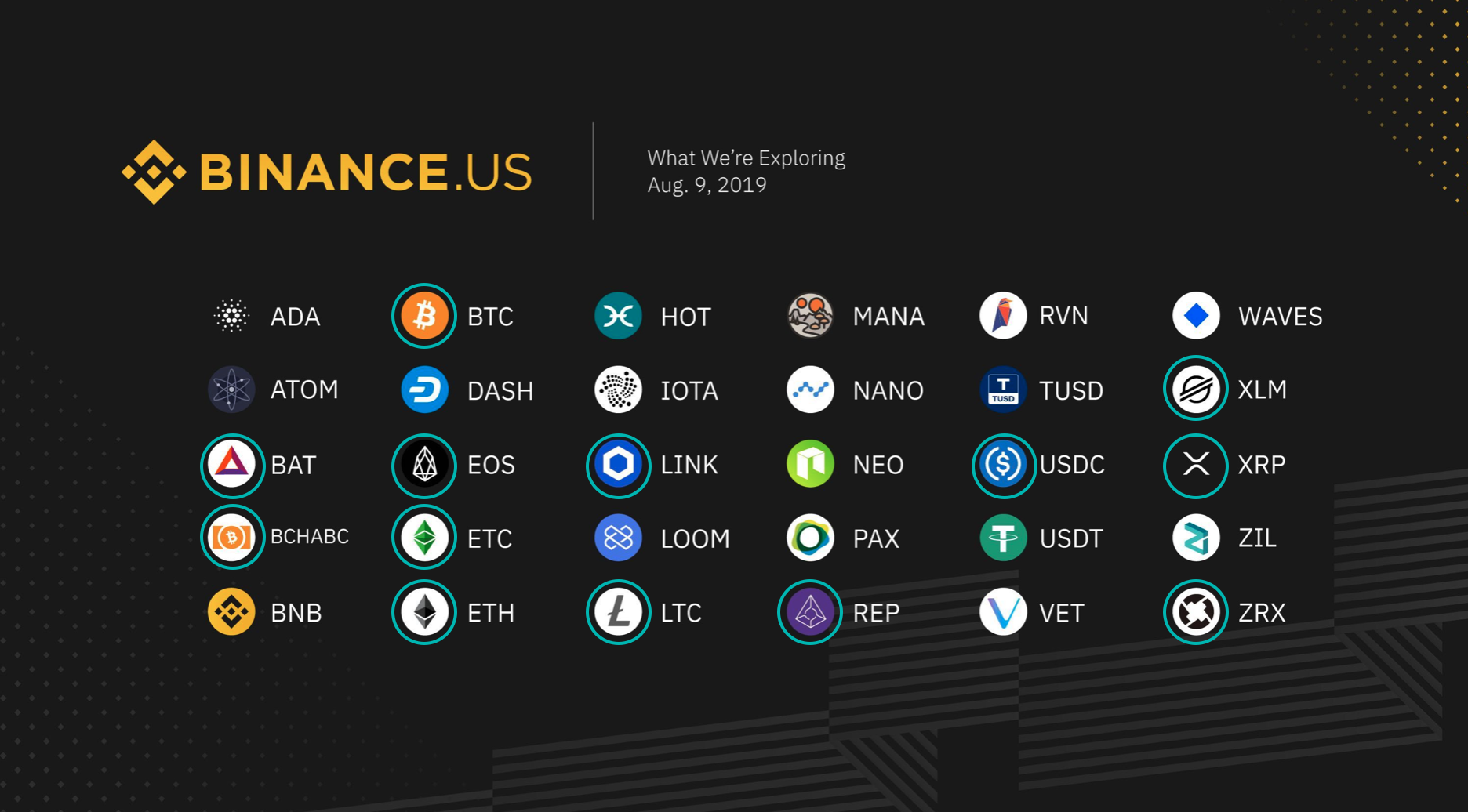 Interestingly, Binance captured approximately 54% of the traded volume in July. Coinbase, on the other hand, captured about 14% of the volume, followed by Bitfinex (~10%), Kraken (~8%), Bitstamp (~6%) and bitFlyer (~3%).


However, compared to all the other exchanges, Coinbase gained the most market share throughout the last year (since July 2018).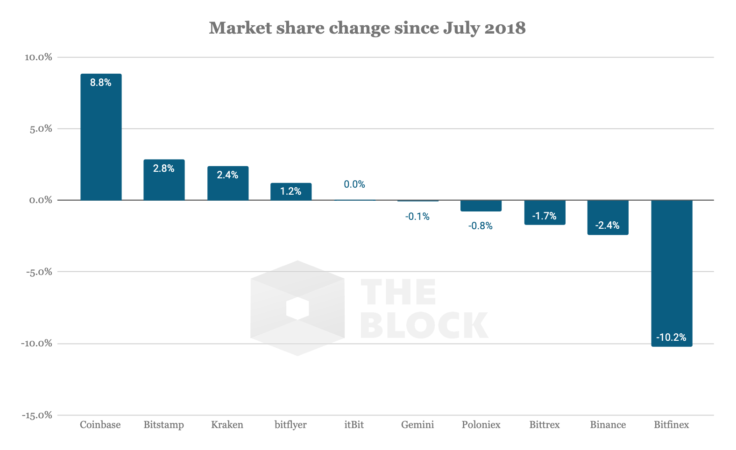 Coinbase has also been considering adding new tokens, with an aim to open up 90% total crypto market cap to its users. It is currently reviewing eight tokens to list- Alogrand, Cosmos, Dash, Decred, Ontology, Waves, Matic Network, and Harmony. Among these tokens, Dash, Waves, Cosmos are also on the review list of Binance US, while Harmony and Matic Network did their token sales on Binance Launchpad. 


© 2023 The Block. All Rights Reserved. This article is provided for informational purposes only. It is not offered or intended to be used as legal, tax, investment, financial, or other advice.