Matic, a native token of blockchain scalability project Matic Network, plunged by around 70% from $0.042 to $0.013 in under 35 minutes on Monday.

Matic Network, in its blog post published Tuesday, said that a misleading tweet by Samuel Gosling, founder of cryptocurrency evaluation platform Validity Crypto, "created the FUD" (fear, uncertainty, and doubt) among crypto Twitter.
Gosling tweeted Monday at around 4:15 am CET that the Matic Network Foundation transferred around 1.50 billion Matic tokens (15% of the supply, worth about $67 million) in the past 50 days, adding that some of which seem to have been sent for liquidation at Binance. However, the dump of Matic tokens took place hours before the tweet at around 1:50 am CET and lasted until 2:25 am CET, meaning that the tweet had nothing to do with the crash.  He later tweeted: "I just want to deeply apologize for providing an inaccurate claim, it turns out it was only 381,903,830 $MATIC (3% of the supply) that 'seems' has been liquidated."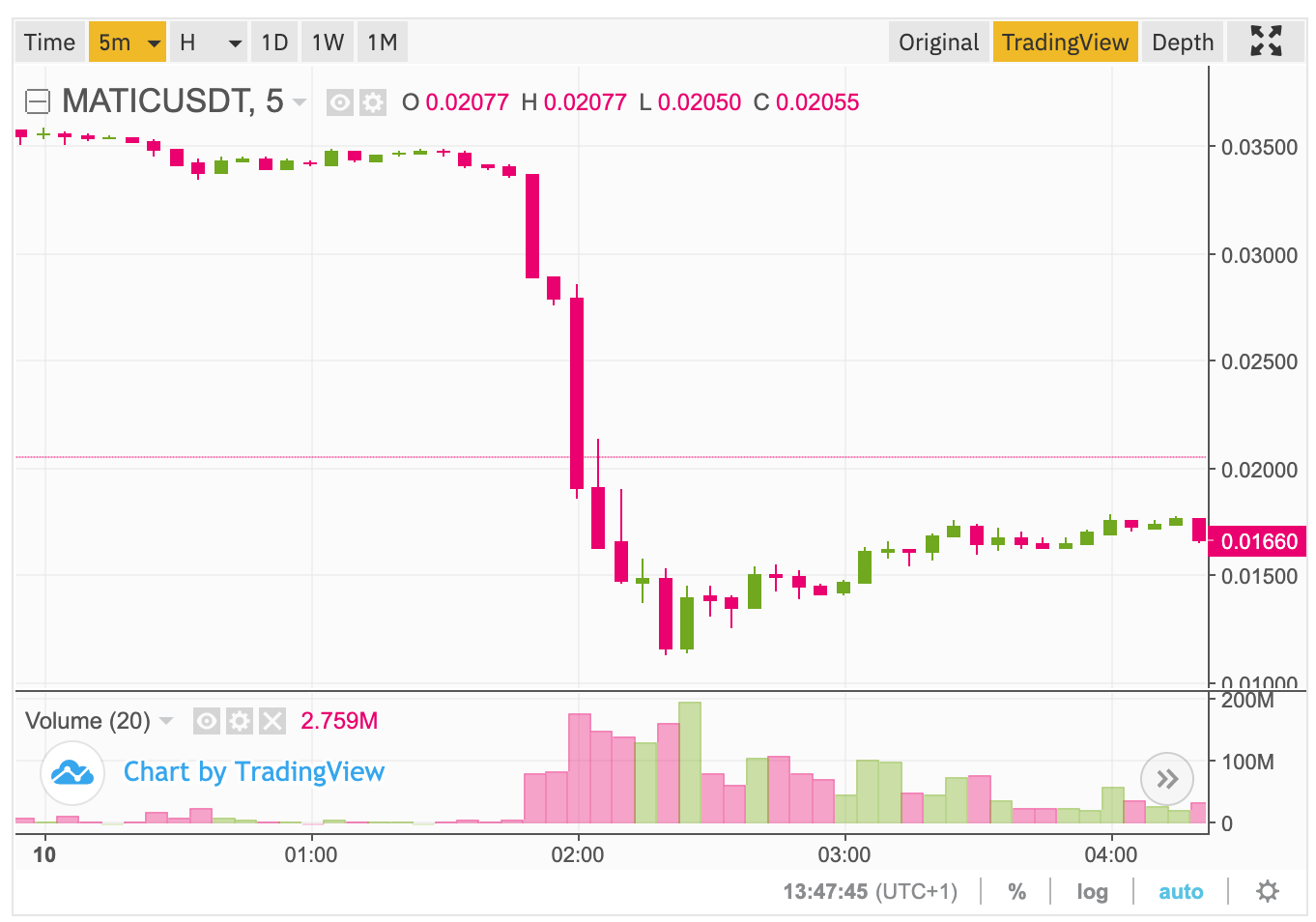 Matic Network went on to say in its blog post: "We want to strongly state that the allegations of token movement from our Foundation account, made by a FUD account against Matic team are completely baseless."

Earlier today, Sandeep Nailwal, Matic Network's co-founder and COO, held an ask-me-anything (AMA) session to further explain the price crash and said: "What we believe is that after our meteoric rise, these people (market manipulators) thought that [MATIC] would be an ideal project to short. I think the timing of this manipulative shorting was chosen in a way that our whole team was asleep because it was night time in India. It seems to be a coordinated attack."

Binance CEO Changpeng "CZ" Zhao also tweeted earlier today that the exchange is investigating the matter but it is "already clear that the MATIC team has nothing to do with it. A number of big traders panicked, causing a cycle."

Matic Network held its token sale via Binance Launchpad earlier this year and raised around $5 million. "Matic has been relatively illiquid, and Binance also allows users to margin trade the token. Both of these factors likely contributed to the sharp fall," said Larry Cermak, research director at The Block.


---
Correction: We have updated the story with the timings of the price crash and changed the headline.
© 2023 The Block Crypto, Inc. All Rights Reserved. This article is provided for informational purposes only. It is not offered or intended to be used as legal, tax, investment, financial, or other advice.