At least two major cryptocurrency exchanges - BitMEX and Gemini - briefly went out of service earlier today as volatility surges.
While their current status shows "operational," both BitMEX and Gemini were down for about 45 minutes late Thursday night. 
BitMEX said it had a "hardware issue" with its cloud service provider, which caused requests to be delayed between 02:16 and 02:40 UTC. Normal service resumed at 03:00 UTC, it added.
Bitcoin's flash crash of more than 50% on Thursday triggered sharp position liquidations on BitMEX. The crypto derivatives exchange registered total position liquidations of a whopping $1.1 billion in the last 24 hours, according to data from Skew. That's the highest amount since over 18 months.


Notably, BitMEX's insurance fund is nearly stagnant. It lost 1,627 bitcoins in the last 24 hours, which is only 4.6% of its total fund value. BitMEX rival Deribit's insurance fund, on the other hand, wiped out nearly all of its bitcoin as its fund value dropped sharply from almost $3.1 million to about $227,000 during the period.

"The BitMEX insurance fund is the largest in the industry by orders of magnitude and remains healthy," the exchange tweeted earlier today.

Other exchanges
Gemini, on the other hand, went under "emergency maintenance" last night to address a technical issue at about 00:46 EDT, before restoring its services at 01:37 EDT.
Notably, Coinbase is also currently monitoring its network for ether (ETH) and ERC20 tokens as send transactions are delayed "due to network congestion." The price of ETH fell below $100 late Thursday -- hitting the mark for the first time since December 2018.
Other exchanges, including Binance and Kraken, are currently running normal, according to their status pages.
Bitcoin near $5,000
Bitcoin is currently trading at around $5,200 levels - the lowest price since March 25, 2019. Notably, the world's largest cryptocurrency briefly hit a low of around $3,800 on Coinbase at about 10:15 pm ET on Thursday.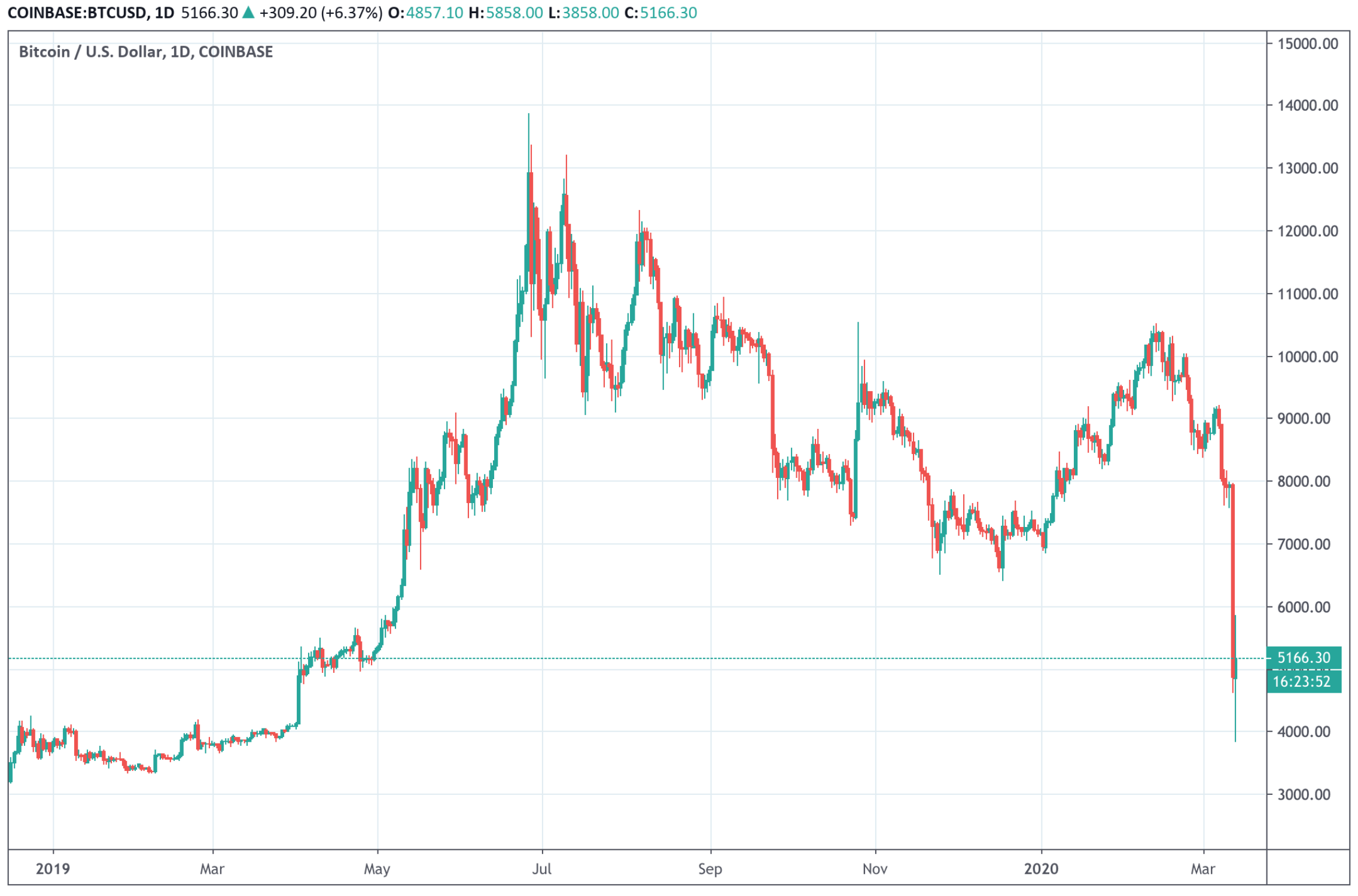 Prices of other top coins, including bitcoin cash (BTC), XRP and litecoin (LTC), are also down by over 20% at the time of writing.
© 2023 The Block Crypto, Inc. All Rights Reserved. This article is provided for informational purposes only. It is not offered or intended to be used as legal, tax, investment, financial, or other advice.