The total assets under management (AUM) of cryptocurrency hedge funds doubled last year, according to a new report.
The report, published by PwC and Elwood Asset Management Services on Monday, shows that the total AUM of crypto hedge funds globally increased to over $2 billion in 2019 as compared to $1 billion in the previous year. Notably, 2019 saw bitcoin's price jump over 90% as compared to 2018.

The percentage of crypto hedge funds with an AUM of over $20 million increased in 2019 from 19% to 35%. The average AUM increased from $21.9 million to $44 million, while the median AUM increased from $4.3 million to $8.2 million. 
Source: PwC & Elwood 2020 Annual Crypto Hedge Fund Report 

"The changes the crypto hedge fund industry has seen in the past 12 months, from additional regulatory clarity to the accelerated implementation of best practices, are great examples of how fast the industry is becoming increasingly institutionalized," Henri Arslanian, global crypto leader at PwC, told The Block. 
Quant funds most prevalent

PwC and Elwood classified crypto hedge funds according to four broad fund strategies: Discretionary long only (funds that tend to have longest lock-up periods for investors), Discretionary long/ short (funds that follow hybrid strategies), Quantitative (funds that trade in more liquid cryptocurrencies) and Multi-strategy (funds that follow a combination of the first three strategies).
They found that quantitative or quant funds are the most prevalent and make up almost half of crypto hedge funds in the market today. The remaining strategies make up the other 50% of the crypto hedge fund market.
Discretionary long-only funds had the best median performance at 40%, with an average 42% gain, according to the report. Discretionary long/short had both an average and median performance of 33%. Multi-strategy funds had a median return of 15%, while quantitative funds saw a median 30% increase.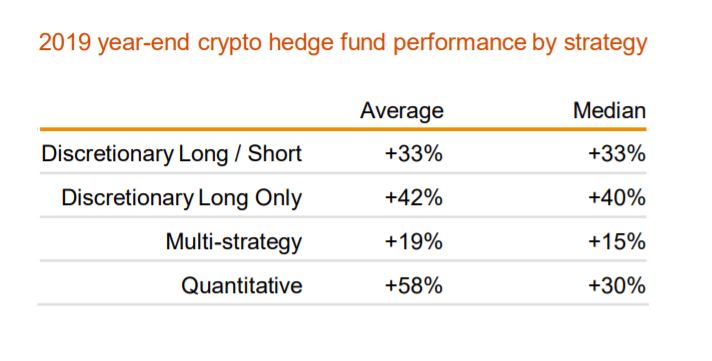 Source: PwC & Elwood 2020 Annual Crypto Hedge Fund Report 

It is worth noting that the performance data was provided by crypto hedge fund managers themselves and was not verified by an independent fund administrator or other third-party auditors.

Bitcoin most traded 
Most crypto hedge funds traded bitcoin (97%) last year, followed by ether (67%), XRP (38%), litecoin (38%), bitcoin cash (31%) and EOS (25%).
"Although we did not ask funds to rank their top traded altcoins by market capitalization, it is interesting to note that Litecoin was mentioned by funds as one of their top traded altcoins despite its market cap being relatively smaller than the other mentioned altcoins," the report said.
Source: PwC & Elwood 2020 Annual Crypto Hedge Fund Report 

About half of crypto hedge funds also trade derivatives (56%) or are active short sellers (48%), per the report. Crypto hedge funds are also involved in cryptocurrency staking (42%), lending (38%) and borrowing (27%).

Speaking about crypto hedge funds' investor base, family offices comprised 48%, with high-net-worth individuals 42%. Only a handful of funds had foundations, endowments venture-capital funds or funds-of-funds as investors, and none of the respondents cited pension funds as investors, according to the report.
"I expect the crypto hedge fund industry to grow significantly over the coming years as investing in a crypto fund may be the easiest and most familiar entry point for many institutional investors looking at entering this space," said PwC's Arslanian.
© 2023 The Block. All Rights Reserved. This article is provided for informational purposes only. It is not offered or intended to be used as legal, tax, investment, financial, or other advice.