More than 32,000 bitcoin, currently worth about $335 million, has been withdrawn from BitMEX in less than 24 hours after the U.S. government filed charges against the crypto derivatives exchange's owners.
The withdrawal figure was revealed by Philip Gradwell, chief economist at blockchain analytics firm Chainalysis, on Friday at around 430 AM EST. Gradwell said BitMEX withdrawals are already adding about 25% more liquidity to the bitcoin market.
Some of the withdrawn bitcoins are going to Gemini and other known exchanges, while some to exchanges with personal wallets, said Gradwell, who thinks more withdrawals may follow in subsequent blocks.
Crypto data and analytics firm CoinMetrics said more than 37,000 bitcoin, currently worth about $387 million, has been withdrawn from BitMEX. The difference between the two figures — by Chainalysis and CoinMetrics — is common since different platforms have different data sources.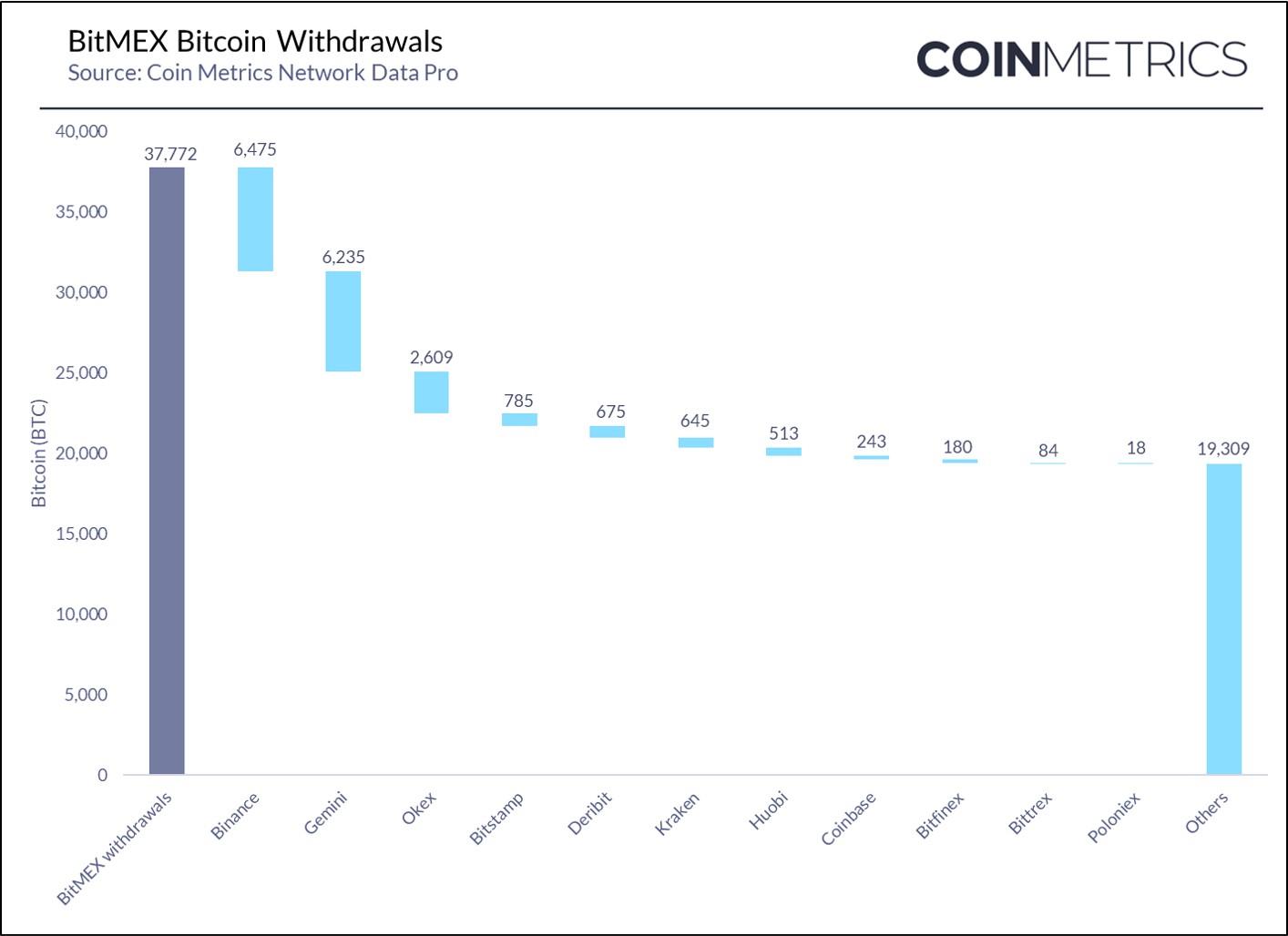 The large withdrawals come soon after the Commodity Futures Trading Commission (CFTC) and the U.S. Department of Justice (DOJ) filed charges against the owner-operators of BitMEX, including co-founder and CEO Arthur Hayes, for allegedly operating an illegal exchange and violating rules. The DOJ also arrested BitMEX CTO Samuel Reed in Massachusetts. 
BitMEX operator plans to fight the charges, a spokesperson for HDR Global Trading Limited, the exchange's parent company, told The Block yesterday. "We strongly disagree with the U.S. government's heavy-handed decision to bring these charges, and intend to defend the allegations vigorously," said the spokesperson. 
BitMEX currently still holds between 135,000 and 170,000 bitcoin, meaning many of its customers are still staying put — at least for now. The exchange's open interest (OI), or the value of outstanding derivative contracts that are yet to be settled, has also not declined that much yet, according to The Block Research. 

The OI of BitMEX's bitcoin perpetual contracts has reduced by about 16% or $119 million, to stand at about $627 million at the time of writing. The OI of the exchange's Ehereum perpetual contracts, on the other hand,  has declined by 37% or $60 million, to about $103 million. 
© 2023 The Block. All Rights Reserved. This article is provided for informational purposes only. It is not offered or intended to be used as legal, tax, investment, financial, or other advice.