Dogecoin's Elon Musk-fueled rally continued into a second day on Tuesday as the memecoin soared after he replaced Twitter's blue bird logo with the icon of a Shiba Inu dog on the company's website.
The coin has jumped by around 30% since the social media platform adopted its logo and its CEO began tweeting about it yesterday.
Dogecoin was trading at $0.0985 by 10:50 a.m. EDT, up 3% over the past few hours, according to Binance data via TradingView. Dogecoin's market cap stood at $13.7 billion at the time of writing.
The run-up in value has drawn attention to a mysterious wallet known as "DH5ya" that once held a staggering $24 billion in dogecoin. In a class action lawsuit filed against Musk in U.S. federal court, investors who have lost money on dogecoin have claimed that DH5ya is Musk's personal wallet.
Musk, through his lawyer, denied the claims and insisted that the wallet belongs to Robinhood, the equities trading platform offering support for several crypto assets. Robinhood declined to confirm or deny that it controls the wallet.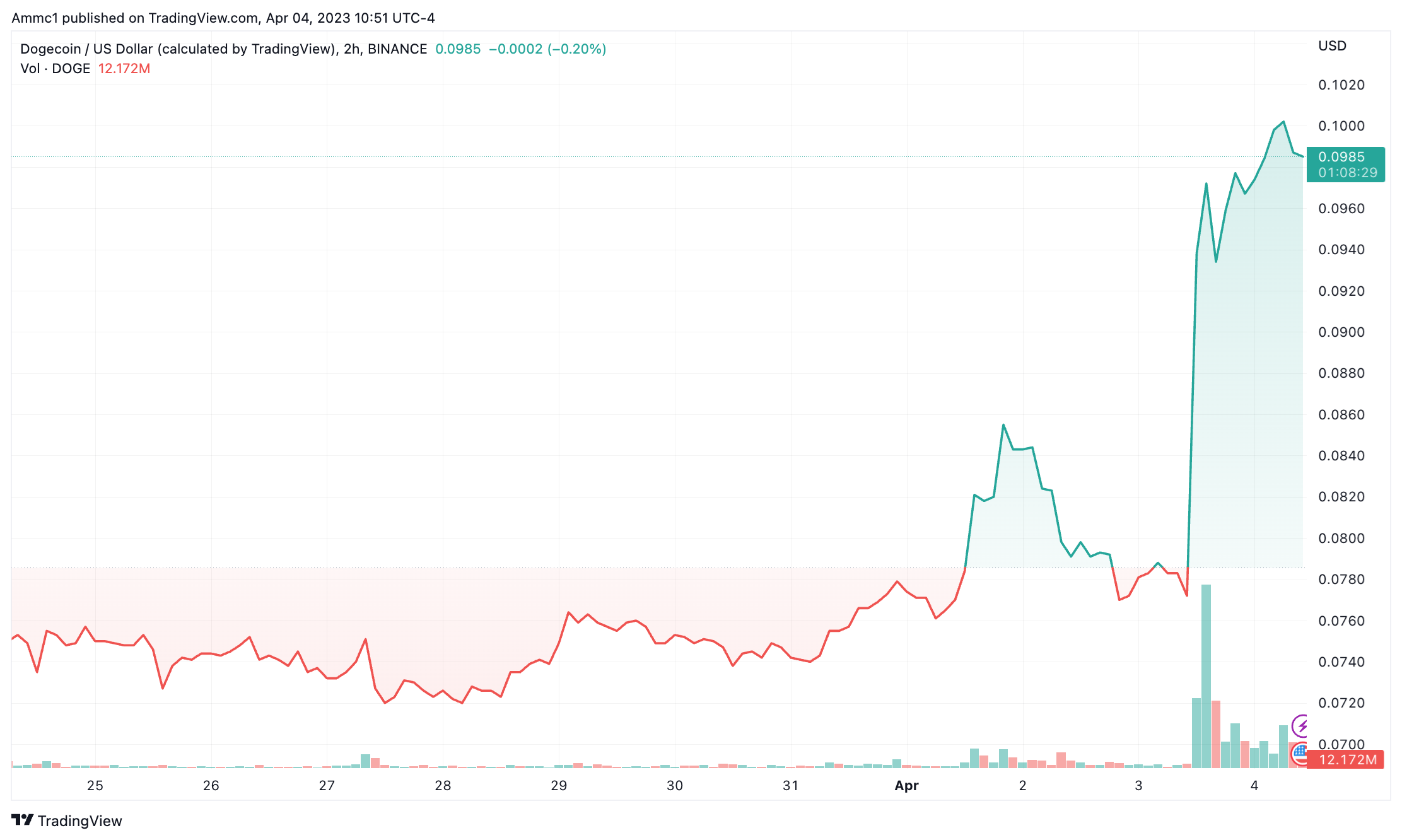 Dogecoin has a history of moving based on what the billionaire CEO does.
In fact, Musk's tweets can move multiple markets. Dogecoin is now in the top seven cryptocurrencies by market cap, ahead of Cardano's ADA, Polygon's MATIC, and just behind Ripple's XRP.
Other dog-themed memecoins were also trading higher. Shiba Inu gained 6.7%, dogelon mars gained 10%, and floki was up over 14%. 
The coin jumped over 50% percent in October after Musk finalized his Twitter takeover. It erased these gains days later when reports suggested he might drop the company's crypto ambitions.
GSR analyst Matt Kunke said he doesn't expect the current Musk bump to last. 

"Crypto trading dynamics driven by Elon Musk's sporadic behavior have frequently been short-lived historically," Kunke said.
Musk accused of manipulation
Musk's relationship with dogecoin is currently the subject of a class action lawsuit in a New York federal court. Dogecoin buyers in the case have accused Musk of orchestrating a pyramid scheme by hyping the coin. 
"After the launch and initial coin offerings of the dogecoin investment contract, Musk became the leader of this multi-billion-dollar racketeering enterprise which intentionally manipulated the market to drive the price of dogecoin from $0.002 to $0.73 in two years, an increase of 36,000%," the complaint alleges.
The complaint says Musk began working with the Dogecoin Foundation Inc. (DCFI) in 2018. In 2019, Musk tweeted that "Dogecoin might be my fav cryptocurrency. It's pretty cool" and "Dogecoin Rulz." The coin doubled in value over the next three days, the lawsuit claims, and Musk allegedly learned that his tweets were enough to manipulate the market.
Over the next couple of years, Musk tweeted upbeat jokes about dogecoin. By May 2021, dogecoin's market cap hit $95 billion. "'The Musk Effect' caused the peak daily trading volume to rise 2,000-fold and the peak market cap to rise nearly 400-fold," the lawsuit claims.
Then Musk made a guest appearance on Saturday Night Live in which he called dogecoin a "hustle." "Within four days, the Doge market cap dropped to $45 billion (nearly 50% from its peak)," the suit states. Within a year, 90% of Dogecoin's gains were gone. At its peak, the dogecoin market cap approached $90 billion, according to CoinGecko data. 
DH5ya: Musk's crypto wallet?
Based on "information and belief," the plaintiffs allege Musk opened a dogecoin wallet whose address begins with the characters DH5ya in 2019. An on-chain researcher, known simply as "lookonchain," has previously laid out these claims on Twitter.
Plaintiffs argue the wallet's transactions indicate that it belongs to Musk. The evidence includes the wallet making a 28.061971 DOGE transaction, which corresponds to Musk's birthday (June 28, 1971), and a transaction spelling out the phrase "Hi Elon." There were six transactions with 69 coins and two transactions with 420 coins involving this wallet, the lawsuit claims. One transaction involved 80085 coins — an alternative spelling of "BOOBS." These actions are typical of Musk's crude humor, the suit alleges.
The wallet in question currently holds a little over 50,300 DOGE, worth just under $5,000 at current prices, according to DogeChain explorer data.
Yet in May 2021, the wallet held $24 billion worth of dogecoin.
Tesla and Musk have urged the Manhattan federal judge to throw out the case, branding it "fanciful." A motion to dismiss, filed on Friday, states the wallet does not belong to Musk and instead says it belongs to Robinhood.
While the wallet is linked to the social investing platform, Robinhood holds users' private keys on their behalf. So it is possible that Musk could have transacted via Robinhood, with those trades being executed by the wallet, without the wallet "belonging" to Musk.
Robinhood's main wallet for consolidating its dogecoin holdings is now DPDLBAe3RGQ2GiPxDzhgjcmpZCZD8cSBgZ. The wallet currently holds $3.3 billion worth of DOGE, or 24% of the circulating supply, based on Dogecoin Whale Alert data.
Musk's tweets supporting Dogecoin
Musk was silent for several hours after the logo change before tweeting a post referencing one of his older tweets which joked about changing the logo. The tweet gained widespread attention, garnering over half a million likes and nearly 50 million views.
Musk made no clarifications about the change, nor has Twitter itself. Whether or not the new logo will remain is unclear at present. Most of the firm's branding remains consistent with the blue bird logo. 
Tesla, Musk's automaker, has also warmed to dogecoin over the past few years. The electric car manufacturer accepts dogecoin as payment for merchandise, and while it holds the cryptocurrency in its reserves, Tesla has not outlined how much DOGE it holds. 
Update: This story has been updated to include analyst commentary.
© 2023 The Block. All Rights Reserved. This article is provided for informational purposes only. It is not offered or intended to be used as legal, tax, investment, financial, or other advice.