It's been an impressive month for the digital assets tied to billionaire crypto exchange executive Sam Bankman-Fried. 
Solana, the layer-1 blockchain competitor to Ethereum, has seen its price surge 47.8% over the last month, according to CoinGecko. Bankman-Fried is one of Solana's most prominent supporters. Meanwhile, Serum, the Solana-based DEX, has seen its native token Serum increase by nearly 62% over the last seven days, Coin Gecko data shows. 
During this episode of The Scoop, we dive deep into the Solana and Serum eco-systems. Sam Bankman-Fried explains why FTX decided to launch a decentralized exchange on Solana versus Ethereum, which supports the vast majority of non-custodial protocols. 
"Any products that we tried to build or that even that we tried to scope out — we originally were just definitely going to build on Ethereum because that's where everything was — product after product got into the same death knell which was 10 transactions a second for the network was just not enough," Bankman-Fried said. 
Solana's blockchain promises more scalability through a new consensus mechanism known as Proof of History. It appears to be favorable among traders. Serum, which FTX announced in July, has seen its trading volumes top $1 billion last month, as per The Block's data dashboard.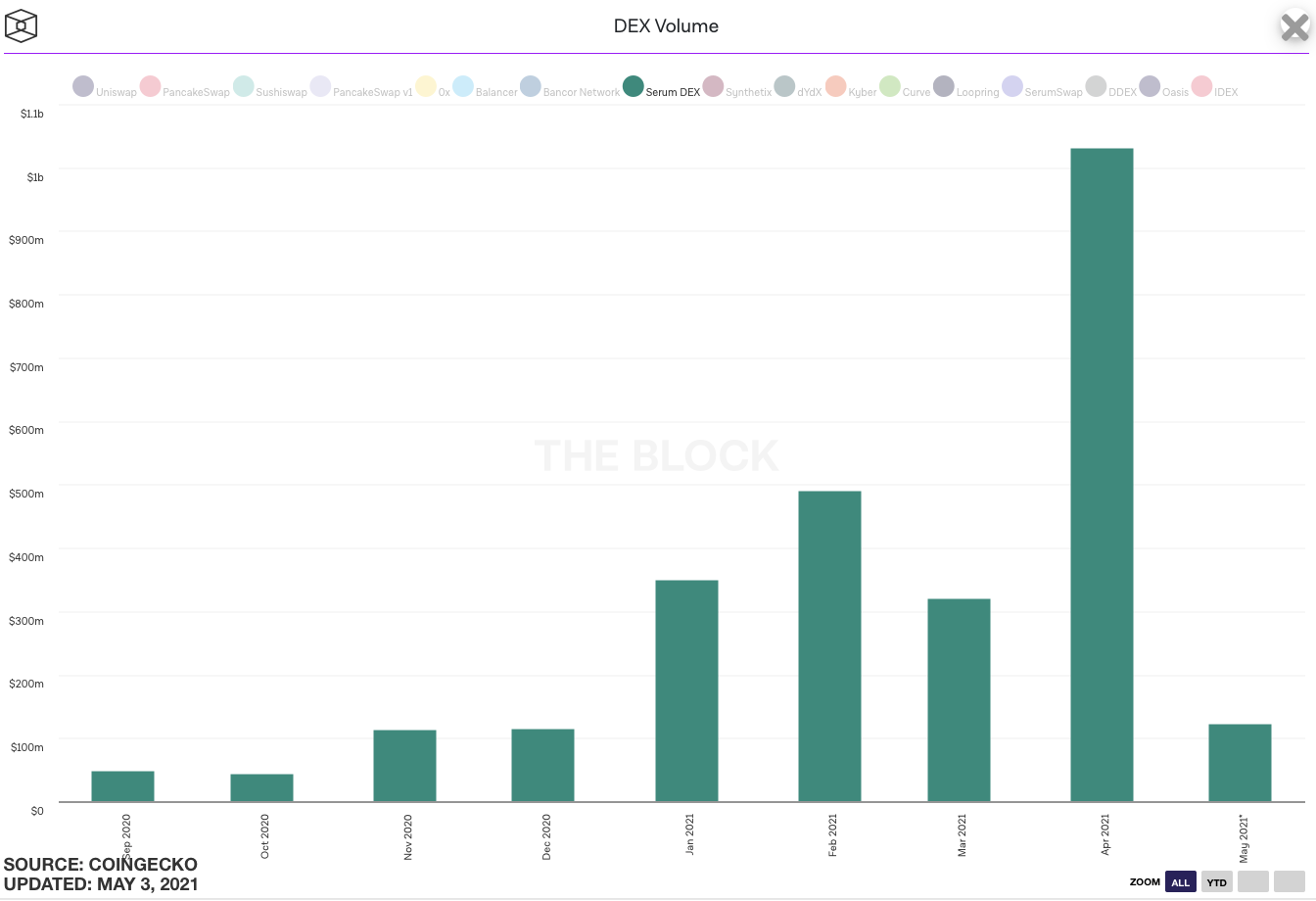 Of course, the benefits of a more scalable blockchain raises questions about decentralization. He said that there are limitations relative to Ethereum, but it is possible to get a lot more participation than other more scalable blockchains.
"Solana has gone down in the direction of saying, hey, look we want the performance of blockchain to be an important criteria of it and we care a lot about the efficiency and scaling and economics of it," he said. "While also wanting there to be a sufficiently big group of nodes. Now, what does sufficiently mean? I don't know. Different people have different thresholds. Right now, they're about 600 active nodes on Solana."
"At that level, you're certainly going to be in the position where everyone in the world is running a Solana node, but you could be in the position where 5% of the world is running one," Bankman-Fried added. "You can't get the same number as you can with Ethereum."
Disclaimer: The former CEO and majority shareholder of The Block has disclosed a series of loans from former FTX and Alameda founder Sam Bankman-Fried.
© 2023 The Block. All Rights Reserved. This article is provided for informational purposes only. It is not offered or intended to be used as legal, tax, investment, financial, or other advice.