A principal economist at the Bank for International Settlements (BIS), considered to be the central bank of central banks, has suggested a new "low-cost" compliance method for regulating blockchain-based financial markets.

The method, dubbed, "embedded supervision," is different from "suptech" (supervisory technology) and "regtech" (regulatory technology), Raphael Auer, principal economist at BIS' Monetary and Economic Department, said in a working paper published on Monday.

The current compliance process involves compiling reports at multiple levels of data, and then that data needs to be collected, aggregated and delivered to various internal stakeholders as well as supervisors, said Auer, adding that "embedded supervision could ease the conflict between data availability, the cost of data collection and verification, and privacy."

Embedded supervision aims to use machine learning or artificial intelligence to monitor the financial industry more efficiently, and thereby reducing the need for firms to actively collect, verify and deliver data, according to Auer.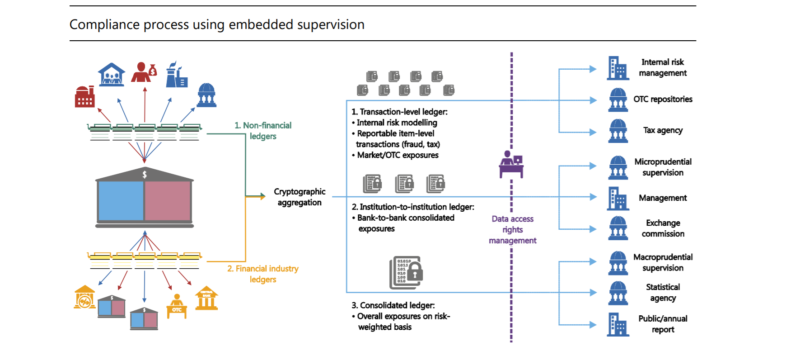 Source: BIS

Giving an example, the principal economist said that the Bank of Lithuania's blockchain-based sandbox, "LBchain," seeks to embed a regulatory infrastructure in a DLT (distributed ledger technology)-based market. This can help lower compliance costs for both market participants and supervisors.

This isn't Auer's first research work into the crypto space. Earlier this year, he said that the proof-of-work (PoW) algorithm used by bitcoin and some other cryptocurrencies needs to be replaced. The PoW "can only achieve payment security if mining income is high, but the transaction market cannot generate an adequate level of income," Auer argued at the time.