Transaction-based revenues are down, but trading platform Robinhood's crypto business is still a major driver of its revenue.
The company announced in its Q1 2022 earnings today, disclosing total net revenues were down 43% compared to last year, from $522 million to $299 million. Transaction-based revenues were down 48% from $420 million to $218 million. This is in line with the firm's earlier predictions that total net revenues would be less than $340 million.
Within that number, transaction-based revenues for cryptocurrencies decreased by 39% compared to last year's Q1 results. That's a decrease from $88 million to $54 million. It's a slight uptick from last quarter's $48 million.
Still, the crypto share of Robinhood's revenue now makes up 25% of its total revenue, compared to the 18% of previous quarter. It brought in more than the equities-based revenues, which decreased 73% from $133 million to $36 million.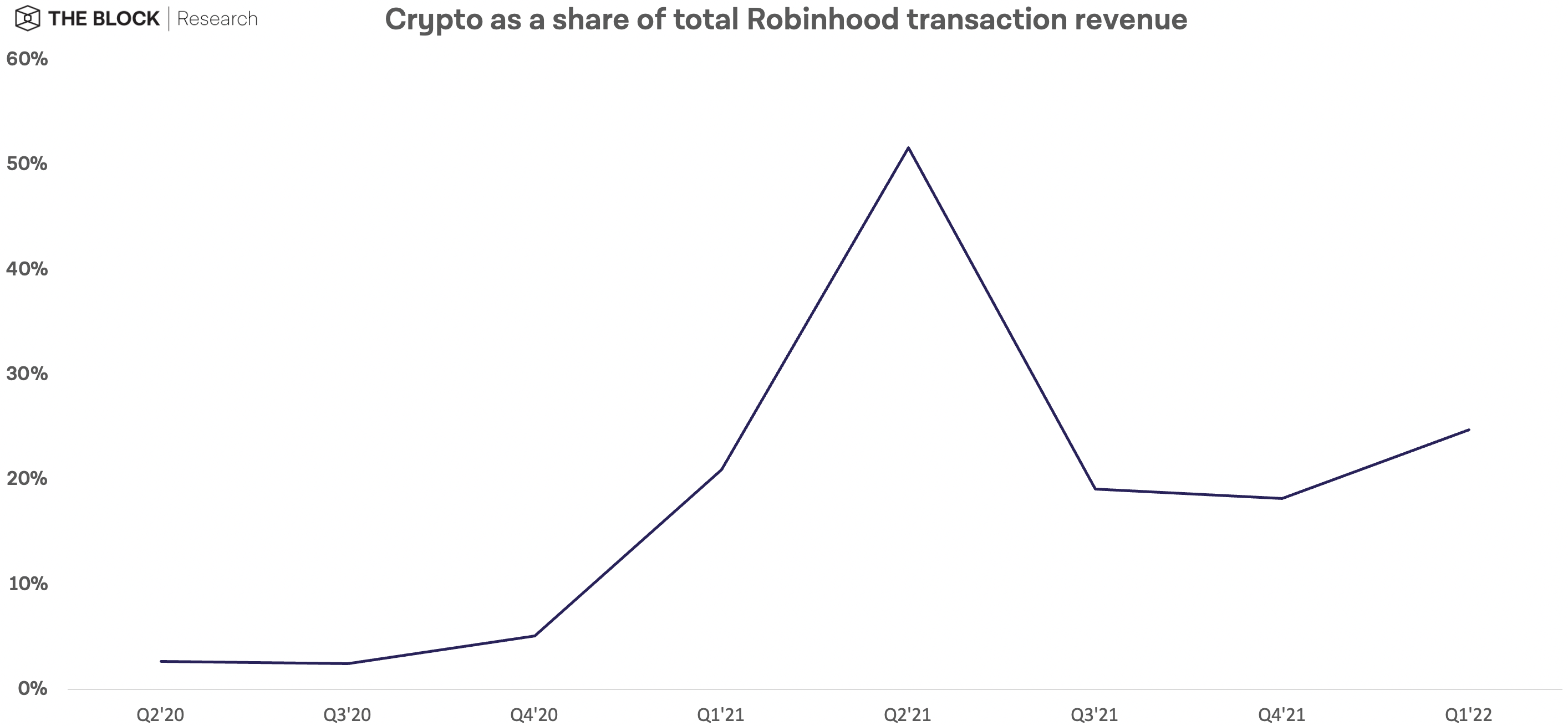 Options made up the remaining portion – and continued to make up the lion's share of transaction revenue – decreasing 36% from $198 million to $127 million.
The firm also noted that net cumulative funded accounts increased 27% to 22.8 million from the previous year. This company attributes this to the surge in customer interest in crypto in Q2 of last year. 
"We're seeing our customers affected by the macroeconomic environment, which is reflected in our results this quarter," said Jason Warnick, Chief Financial Officer of Robinhood Markets, in a statement with the earnings figures. "At the same time, we've also made progress on our long-term plans and continue to pursue them aggressively."
Some of those long-term goals include its 2022 crypto roadmap, which it says it remains on pace to meet. This includes the April rollout of the Robinhood crypto wallet and the announcement of Robinhood's planned integration with the Lightning network. 
Ahead of the release, Robinhood laid off approximately 9% of its global staff, citing a period of significant growth that led to duplicate roles and needless layers of complexity. In the announcement of the layoffs, CEO Vlad Tenev said in a post that the firm still planned to introduce key new products through 2022.