To bring crypto into the mainstream, you need to have fun...shower and be generally presentable... and dress like a wizard. Oh, and then send bitcoin to the moon.
Those were among the ideas batted around at the Bitcoin Builders Conference in Miami today, ahead of the Bitcoin 2023 Conference.
"People in crypto are not the most hygienic, I don't know why," Udi Wertheimer, co-founder of Taproot Wizards, said jokingly. "It's just not always a very good experience to be next to crypto people. So we thought it's time to fix it. If we want to go mainstream and we want people to adopt crypto, we need to be presentable. We were like, ok, let's get people to take showers and we asked people, in order to get into the Taproot Wizard community, we asked them to take a shower, wearing a wizard costume."
Ordinals and BRC-20 were the talk of the event, with attendees saying new developments can bring some of the fun back that had some people turn to other blockchains over recent years.
Fun is also a good way to go mainstream, enthusiasts agreed. The crypto industry is also eager to find new adopters amid a slide in interest, with cryptocurrency prices nowhere near their 2021 highs and the industry digesting a spectacular parade of corporate collapses.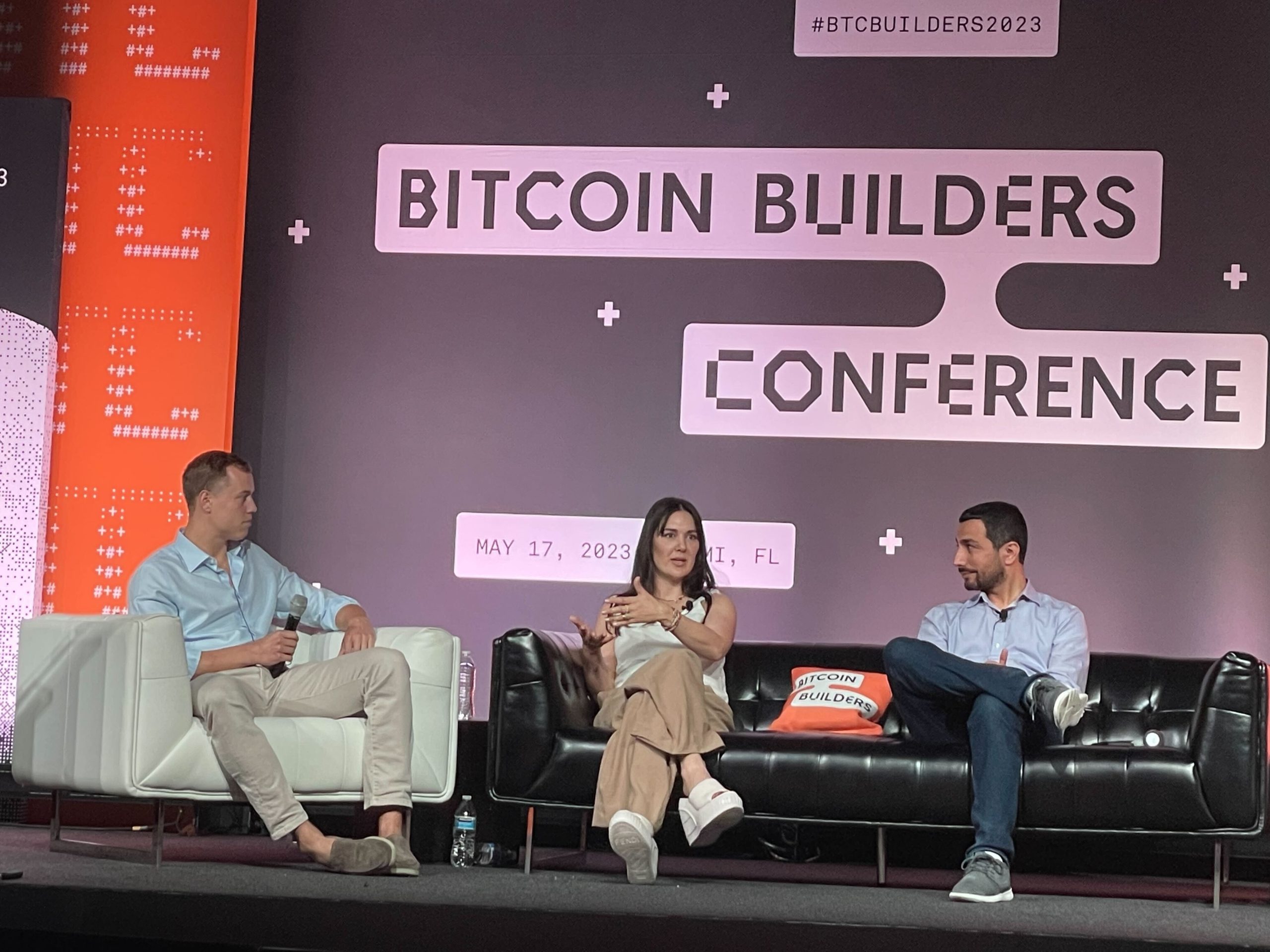 The Block's George Calle, Meltem Demirors, chief strategy officer at Coinshares, Muneeb Ali, CEO Trust Machines
Ordinals recently led costs to spike and concerned some over the cluttering of the blockchain.
There were also very serious discussions at the Bitcoin Builders event, where panels included chats about rollups and ZK proofs.
Aubrey Strobel, host of the Aubservation, Udi Wertheimer, co-founder of Taproot Wizards, Joe Vezzani, co-founder & CEO of LunarCrush, Danny Yang, founder, OnChainMonkey,
Wizards in the shower
Earlier this year, Taproot Wizards, an NFT collection, gave people the opportunity to complete quests to acquire a Taproot Wizard. One included dressing up as a wizard and filming yourself in the shower.
Wertheimer, speaking on a panel, estimated they received about 4,000 submissions.
"I actually really like what's happening with Taproot Wizards and BRC-20s," said Meltem Demirors, chief strategy officer at Coinshares. "There are all these incredible things that are happening that are driven by people having fun, and it's funny, yesterday, someone asked me, what's it going to take to get a dramatic leap forward in Bitcoin adoption? And I said, 'Honestly, it's probably going to be something silly that looks and feels like a toy, that makes people feel like Bitcoin is fun.'"
"Bitcoin's becoming fun again. We've got people taking showers fully dressed to try to get a Taproot Wizards," Demirors said on a panel.
Joe Vezzani, co-founder & CEO of LunarCrush, agreed.
"It's all about fun," he said. What's his project? He's sending bitcoin to the moon in the form of an address carved into a lunar rover "about the size of a dog."
The question is: Chihuahua or Great Dane?
© 2023 The Block. All Rights Reserved. This article is provided for informational purposes only. It is not offered or intended to be used as legal, tax, investment, financial, or other advice.