HSBC Hong Kong, the largest bank in the special administrative region of China, now allows customers to easily access and trade bitcoin and ether exchange-traded funds (ETFs) listed on Hong Kong's stock exchange through its investment platform.
There are three crypto ETFs listed on HSBC Hong Kong's investment platform — CSOP Bitcoin Futures ETF, CSOP Ethereum Futures ETF and Samsung Bitcoin Futures Active ETF — as per screenshots of the platform seen by The Block. Colin Wu, a Chinese crypto reporter, first reported the news. HSBC Hong Kong did not immediately respond to The Block's request for comment.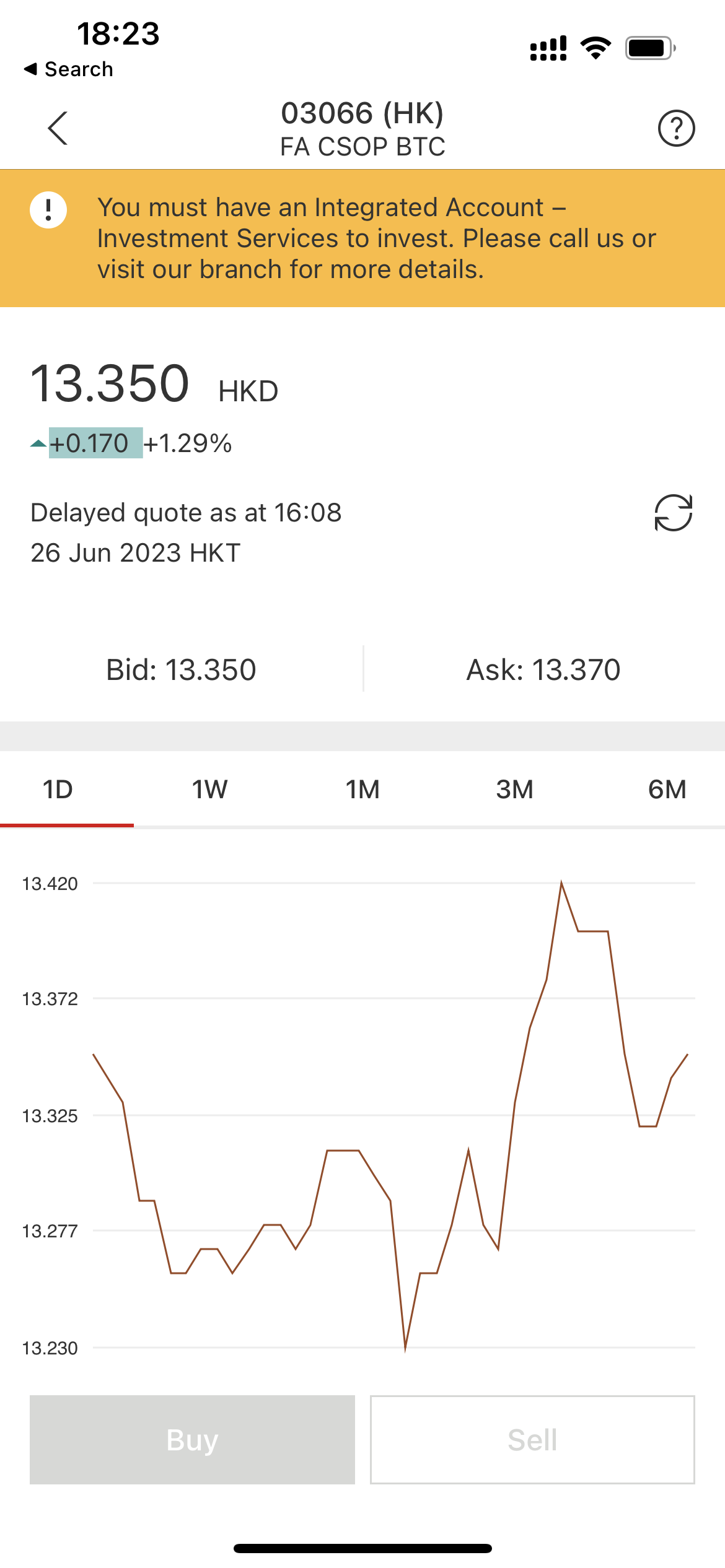 HSBC Hong Kong allows trading in crypto ETFs; Source: The Block 
The news means Hong Kong-based users can now easily trade crypto ETFs at the bank. The development marks HSBC Hong Kong as the first bank in the region to allow trading in crypto ETFs, according to Wu, who says the ETF listings occurred today.
CSOP Bitcoin Futures ETF and and CSOP Ether Futures ETF are both managed by CSOP Asset Management and track the standardized, cash-settled Bitcoin futures contracts and Ether futures contracts traded on the Chicago Mercantile Exchange (CME), respectively. Both the ETFs were listed on Hong Kong's stock exchange last December. Samsung Bitcoin Futures Active ETF, on the other hand, debuted this January and is manged by Samsung Asset Management Hong Kong.
Hong Kong's crypto ambitions
Hong Kong recently introduced a new licensing regime for crypto platforms as part of its efforts to attract more crypto firms in the region as the U.S. has been cracking down on the industry. Hong Kong's banking regulator, the Hong Kong Monetary Authority (HKMA), is also reportedly applying pressure on HSBC, Standard Chartered and Bank of China — who hold a special role as issuers of the city's currency — to accept crypto exchanges as clients.
It remains to be seen whether HSBC Hong Kong's rivals will follow suit in listing crypto ETFs. As for in the U.S., the race for a spot bitcoin ETF is on with several filings and refilings from BlackRock, Invesco and WisdomTree. The U.S. regulator has previously rejected similar applications multiple times in the past, mainly due to crypto market manipulation concerns.
Update: The headline and article has been updated for clarity.
© 2023 The Block. All Rights Reserved. This article is provided for informational purposes only. It is not offered or intended to be used as legal, tax, investment, financial, or other advice.